Powerful and horrendous Australian bushfire images have captivated audiences across the world, but one award-winning image currently in circulation on social media was captured seven years ago.
The image is by Tasmanian resident, Tim Holmes, and was first published by ABC in January 2013 to cover the bushfires in Dunalley, a small Tasmanian fishing village. It shows Tim's wife and their five grandchildren taking refuge under a jetty.
Tim speculates the ABC made the image available through an agency, which led to it being picked up by news publications around the world.
The Guardian wrote in 2013: 'The tornadoes of fire came from two directions. They quickly engulfed the… town, and swept towards the home where Tim and Tammy Holmes were babysitting their five grandchildren. There was no escape. No way out. And so the family did the only thing left open to them: they ran for the water.'
Tim informed Inside Imaging the photo was captured to record an experience the children were having, and he didn't realise it was a great news photo. 'It's something they (the children) may never remember or understand in years to come,' he said.
'In the circumstances my phone had already drowned, but my wife had the commonsense to put her phone on top of the jetty, and she had the idea to grab a photo of this because whose ever going to know what it was like. So I took a few photos and thankfully we were able to preserve them as things went from bad to worst after that.'
Tim received a Special Mention at the 2014 World Press Photo contest, and more recently it appeared in The Guardian's 'A Decade In Pictures (2010 – 2019)'.
Seven years after the Dunalley fires, the photo is being shared on social media to visualise the hardships faced by people trapped in bushfire-affected coastal towns. It seems likely people publishing Tim's image aren't aware of the photos origins.
While most posts are attempting to do 'good' by encouraging donations, some have politicised the image to criticise the government.
'I haven't actually seen it being used on social media, but if it's out there it's completely unauthorised,' Tim said. 'I guess people have used it for their own ends, and some of the ends are a little dubious in as much as linking it to issues that they're concerned about but aren't related or sanctioned by us. Also, because it's a personal photo and the people in it that have feelings, I don't think others should have the right to use it willy nilly.'
It's anyone's guess how Tim's image was separated from the original story and took on a new life. Some people are bizarrely crediting it to a Hawaiian-based surf photographer. Additionally, it's understandable people believe the powerful photo was recently captured in Victoria or New South Wales, as it fits seamlessly into the current visual narrative of people and animals taking refuge on beaches, and families being whisked away in boats.
Co-author of a UN handbook on journalism and disinformation, Dr Julie Posetti, told SBS that 'many people will inadvertently share fabricated or out of context images that they feel tell the story they're living through'. She's speaking in references to bushfire misinformation and 'fake images' circulating, and states it's crucial for people to avoid unreliable sources.
Other art works and graphics have also been inaccurately interpreted as truthful photographic information.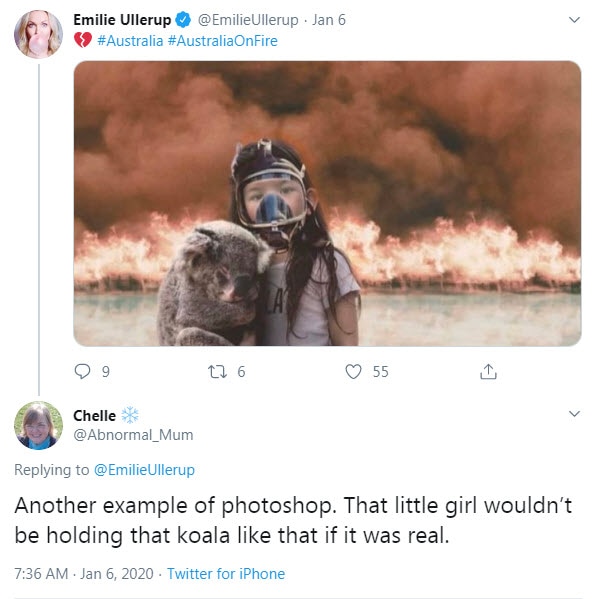 Despite social media playing an unprecedented role in disseminating information about the bushfire crises, it's imperative for information to be as accurate as possible during an emergency situation.
'It's now beyond our control. There is nothing we can do to reign it in or curtail the spread,' Tim said. 'It's kind-of out there and it's gone. It's interesting to be helpless in the situation – I haven't gone looking to see where it has been used and don't dwell on it – but it's got a life of its own now that's not necessarily accurate or truthful.
'It just shows you how unreliable social media can be, and how unregulated it is. If a newspaper published that, claiming it was a part of the existing crises and credited it to the Hawaiian surf photographer – there would be repercussions.'
Beyond the unauthorised use, Tim points out it's a deeply personal photo for his family. 'The kids are still young. I just don't think their image should be spread across the world'.